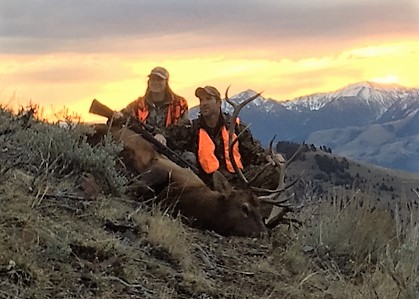 (Helena, Mont.) Big Hearts Under the Big Sky, in cooperation with Mountain Sky Guest Ranch, provided one of America's elite warriors and his family an all expense paid trip to Yellowstone and Chico Hot Springs. This trip included hunting, a trophy elk hunt, cattle drive, visits to Chico Hot Springs and Yellowstone National Park and closing with a celebration dinner for Mike and his family in honor the sacrifice he and his family made for our country.

Mike was nominated for this trip because of his extraordinary dedication and service to our country exemplified through his years of service and numerous deployments around the world. Over his career his family has endured years of absence due to his deployments, many of which have been on short notice. Therefore, many family trips and plans have been disrupted making time with family an important element of this Big Hearts trip. All members of this family have sacrificed in ways many Americans do not fully understand but contribute to maintaining the freedoms we enjoy every day.
"We are incredibly grateful for Mike's service to our country. It's heroes like him who allow us to experience the safety and freedoms many take for granted," said Mac Minard, Executive Director of Big Hearts Under the Big Sky. "We are incredibly honored to have the opportunity to provide Mike and his family this trip as we recognize they all have carried the load of service for us and our nation. We feel it is important to recognize and honor that service."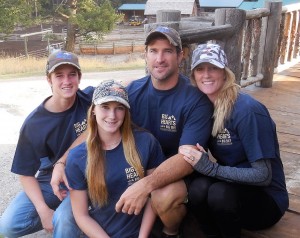 Mike's wife, Karen, and two of their three children, Tayler and Mikey could join their father on the trip and it was daughter Tayler who collected her first big game animal with her Dad alongside her.
"It has been an honor to help provide Mike, Tayler, Karen and Mikey this adventure," Said Yancey Arterburn, General Manager of Mountain Sky Ranch, "We are immensely proud of all of our veterans and their families for what they have selflessly given up for our country. This is a truly honorable family who deserve nothing less than an amazing Montana experience in honor of their hard work and sacrifices."
"I think every working parent misses certain milestones for their children and families, but instead of focusing on what I have missed because of this career, I like to focus on the wonderful memories I have and will continue to make with my family," said Mike. "Thanks to Big Hearts Under the Big Sky and the generous donations of numerous outfitters, I have this wonderful memory of hunting with my daughter and spending time with my family."
Big Hearts Under the Big Sky is the charitable branch of Montana Outfitters and Guides Association, which is dedicated to providing military service men and women and their families with unique opportunities and experiences in honor of their sacrifices and service.
Contact
Mac Minard
406-439-2059