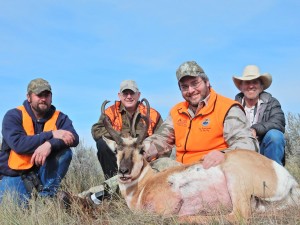 by The Fairfield Sun Times
Big Hearts under the Big Sky, in cooperation with 7 – V Outfitters, recently provided a fully guided and outfitted antelope hunt to Army Veteran Seth Perkins in recognition of his service to our country. The all expenses paid, five-day trip included hunting, premier lodging, and a dinner held in Perkins' honor.
Perkins and his group were hosted in a full-service lodge and the hunting took place on a scenic private ranch with 80 square miles of varying terrain. They were able to enjoy this experience without any disruption, as there were no other hunting parties scheduled during their stay.
"This trip was a great experience, we were able to explore the beautiful ranch while hunting antelope," said Perkins. "I really enjoyed having my father there with me, it wouldn't have been the same without him and it was very special to be able to share this experience with him. I am incredibly thankful for the outfitters and donors who helped make this trip possible."
Perkins served in Iraq from 2007 to 2010. Approximately six months into his final tour he was hit with an IED, resulting in the double amputation of his legs.
"We were very honored to have the opportunity to provide this trip for such an extraordinary person," said Mac Minard, Executive Director for Big Hearts Under the Big Sky. "We take every opportunity we can to put an emphasis on our veterans and provide experiences that help them reconnect with their families. We are grateful for all our generous donors and 7 – V Outfitters for helping us make this trip for Seth a reality."
Perkins was nominated for this program through the Caregiver Support Program of the VA Montana Healthcare System. They were impressed by his focus on independence and wanted him to have a great trip with his family.
"We are incredibly proud of all our veterans, they have sacrificed so much in order to protect the multiple freedoms we get to experience every day. The men and women in our armed forces continue to put their lives on the line for us," said Ross Childers, of the 7 – V Ranch. "Providing them with an one-of-a-kind Montana hunting experience is our way of giving back. We hope this trip was truly memorable for Seth and his family."
Big Hearts Under the Big Sky, operated by the Montana Outfitters and Guides Association, is dedicated to providing trips like this to veterans who have provided extraordinary military service to our country. For more information please check out www.BigHeartsMT.org